Firstly we would like to thank you so much that you are here.Additionally we would like to inform you that Bluzz.org is the most complete online newsreader and the same time an ultimate digital magazine that relies on readers interests to curate the day's biggest headlines.At Bluzz.org we do not develop any kind of stories or articles. Bluzz.org receives public rss feeds from the world's most popular news sites,online magazines,trusted websites and displays them with a link in the end of each article which redirect visitors to the original source.This means that Bluzz.org receives thousands of articles daily from more than 400 sources and display them per minute and per category.Bluzz.org do not host articles more than 24 hours.
Content responsibility
Bluzz.org does not compile, adopt and has no control over the content of the publications which it presents and categorizes automatically through algorithms and the full content of which it refers through relevant links. Also Bluzz.org does not adopt and has not control and responsibility for the content of search engines provided by Google LLC.
×
Cookies help us deliver our Services. By using our Services, you agree to our use of cookies. Learn More.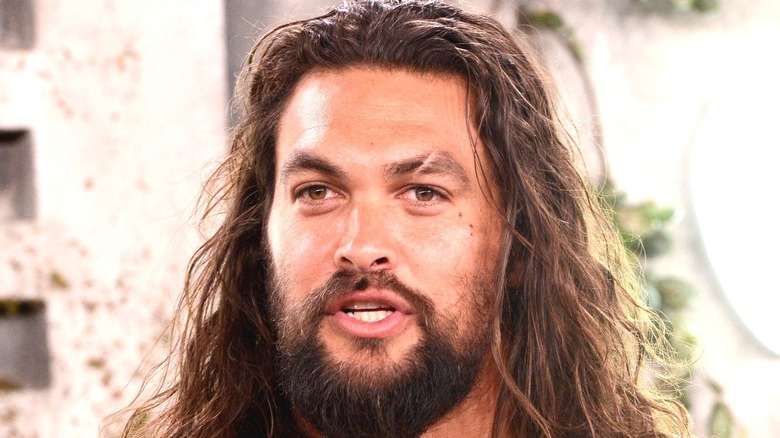 Albert L. Ortega/Getty Images
By Kim Bell/Sept. 15, 2021 6:36 pm EDT
Whether he's leading a Dothraki horde in HBO's "Game of Thrones" or protecting humanity and saving his underwater kingdom in "Aquaman," bonafide badass Jason Momoa never appears to need much help from makeup and hair to fit the part. The 6'4" "Sweet Girl" star possesses the proverbial "rugged good looks" and intimidating presence necessary for many of the roles in which he's cast. That he's able to believably breathe unique life into each of these seemingly similar "types" speaks to his abilities as an actor outside of anything having to do with his aesthetic.
That said, even Momoa himself has credited at least one element of his looks with landing him certain roles, and it's a feature audiences aren't used to seeing him without. Unless that audience caught his acting debut in 1999's "Baywatch: Hawaii," of course. We're talking about that flattering, forty-five-degree angle scar above the actor's left eye. Although Momoa can joke about his scar now ("I got my wife beforehand," he told Access Hollywood in 2011, "so... if she doesn't like it, too bad") the star revealed that the story behind it is actually quite serious. So just how, exactly, did Momoa end up with his now characteristic eyebrow art?
Jason Momoa's scar helped open doors
In what Jason Momoa told Access Hollywood he believes was part of a "gang initiation," a man "smashed a pint glass" in the actor's face, leaving a wound that required 140 stitches. "It was crazy," he said of the incident, adding that — on the plus side — it helped him "get those mean roles." As Men's Health reports, Dominic Bando (the man who hit Momoa) initially plead not guilty to charges of assault with a deadly weapon but was ultimately sentenced to five years in prison.
While the story behind the scar is decidedly unfortunate, Momoa's clearly managed to make the most of the new facial feature, which no doubt helped him look the part of characters such as the infamous Khal Drogo and the lesser-known but equally compelling Declan Harp on Netflix's "Frontier." As he told The New York Post in 2011, before the scar he was consistently called a "pretty boy," so, as he put it, "If anything, it's like, 'Good' ... it's not my thing now."
Nonetheless, even if Momoa isn't exactly "proud" of his pre-scar acting work in "Baywatch: Hawaii," (via Entertainment Weekly), it still seems like a helluva stretch to give the scar too much credit. There are few actors who could lie their way into a first audition (via Square Mile), struggle to find work for years after their debut, and then enjoy a consistent and meteoric rise playing iconic characters — with or without scars.